Departments
Custom Index Tabs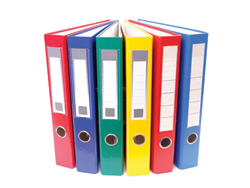 Index dividers and tabs can be customized to your needs so that your documentation can be sorted easily, allowing your audience to quickly access the information they need. Professional finishes will create the completed touch to your project, giving the impressive look it deserves.
Our design and production staff will guide you through the technical aspects of designing and laying out your tabs. And we can assist in designing and producing the artwork itself, to make sure you get exactly the look you're after.
Choose from many cover weight paper stocks, including gloss, matte or dull, coated one or two sides, uncoated, coloured or white. Special ink colours compliment your custom project. Single and multi-colour printing, one side or two. Other decoration processes are also available.
Choose from a plentiful array of coloured mylar to be laminated on both sides of the tab for added durability. Add a strip of mylar along the drilled area on the back side for further reinforcement.
---